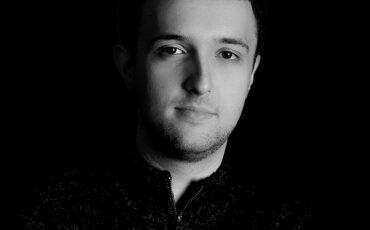 Yvain Calvo Caballero
– Klavier
---
Yvain Calvo ist ein spanischer Pianist mit einer aktiven internationalen Karriere sowohl als Solist als auch als Kammermusiker. Nach dem Abschluss seines Studiums an der Guildhall School of Music & Drama im Jahr 2021, das er unter der Leitung von Peter Bithell und Caroline Palmer absolvierte, trat Yvain Calvo unter anderem beim Oxford Philharmonic Friend's Evening auf und gab Konzerte in angesehenen britischen Konzertsälen wie der Milton Court Concert Hall und der Royal Over-Seas League. Seine musikalische Reise führte ihn zu Aufnahmen an historischen Orten wie den Abbey Road Studios und dem Palau de la Música de Valencia sowie zu den Proms in St Jude's. Yvains Musizieren ist stark von seinem früheren Studium als Hornist beeinflusst, und sein Klavierspiel wird als "warm, sensibel und sehr speziell" beschrieben.
Seit 2018 ist Yvain zusammen mit der Bratschistin Lorena Cantó Mitglied des Duo Fabulae, mit dem er mehrere internationale Preise gewonnen hat, darunter den 1. Preis beim Charleston International Chamber Music Competition und beim Lugano International Music Competition im Jahr 2022, den 3. Preis beim Birmingham International Music Competition und den Futures Fund Award der Guildhall School of Music and Drama. Im vergangenen Oktober trat das Duo in der Sendung Andante con Moto des spanischen Rundfunks (RTVE) auf.
Im Laufe seiner Karriere hatte er das Privileg, Meisterkurse bei renommierten Künstlern wie Joan Havill, Noriko Ogawa, Charles Owen, Katya Apekisheva, Paul Roberts, Ian Brown, Garfield Jackson, Rivka Golani, David Dolan, Joseph Tong und Simon Rowland-Jones zu besuchen. Zwischen 2021 und 2022 nahm Yvain am ChamberStudio Mentorship Programme am King's Place teil.
---
Konzerte: